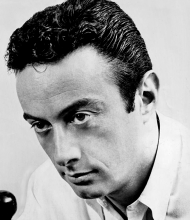 Lenny Bruce
SiriusXM announced today that is will exclusively premiere a long-lost comedy album from the legendary Lenny Bruce. Lenny Bruce Is Out Again will air in its entirety on September 25 at 8:00pm ET on SiriusXM Comedy Greats channel 94.
The unreleased album was fully authorized by Bruce's daughter, Kitty Bruce, who will speak with SiriusXM host Ron Bennington for a special hour-long interview that will air at 5:00pm ET, shortly before the album's premiere. Also joining the panel will be actor Luke Kirby, who won an Emmy Award for his portrayal of Bruce on The Marvelous Mrs. Maisel, and comedian W. Kamaul Bell.
Bruce was known for his brash style, paving the way for other outspoken comedians to address topics often seen as taboo. Unafraid to tackle the subjects of politics, sex, race, and religion, Bruce was frequently the target of law enforcement, leading to a much-publicized freedom of speech trial. He is now widely considered one of the greatest and most influential stand-up performers in history.