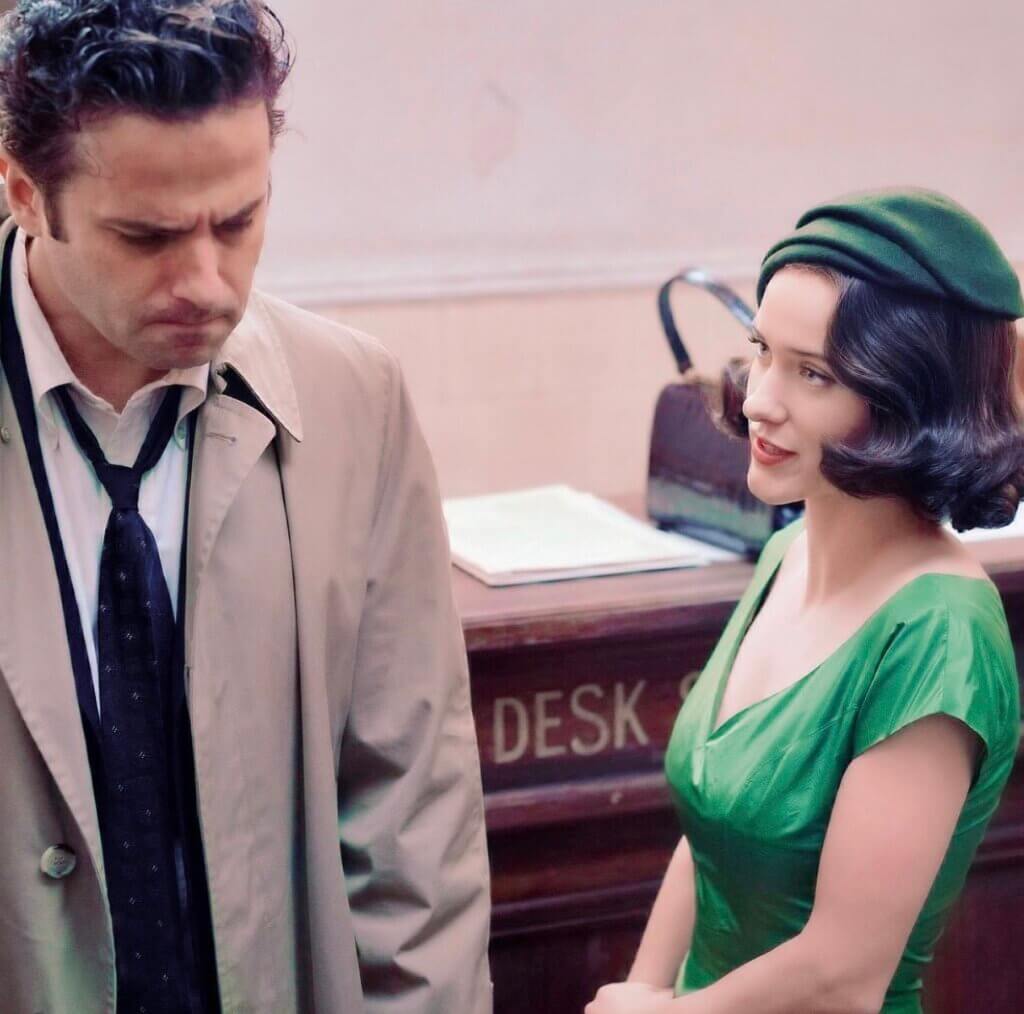 Lenny Bruce, Mrs. Maisel's mentor, friend, and more in the hit mid-century television comedy series The Marvelous Mrs. Maisel once performed in Nyack. It is a little difficult to picture America's bad-boy comedian Lenny Bruce on stage in our little village during WWII, almost as difficult as it is to picture Lenny Bruce in the service. Who was Lenny Bruce and where did he perform in Nyack?
With thousands of servicemen at nearby Camp Shanks, Nyack became a destination for young men looking for entertainment. The Nyack USO and the Rockland Theater across North Broadway from each other became a go-to place for wholesome fun. How did Lenny Bruce fit into this small village fun?
"I hate small towns because once you've seen the cannon in the park there's nothing else to do." 
Lenny Bruce
Leonard Alfred Schneider aka Lenny Bruce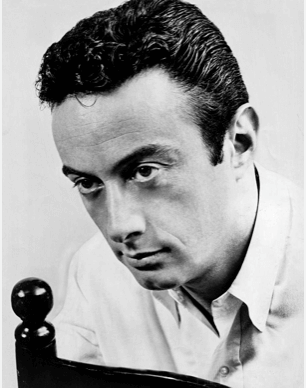 Leonard Alfred Schneider joined the US Navy in 1942, at age 16. Bruce served as an artillery shell passer on battleships in several Mediterranean campaigns during the war. He saw action in North Africa, Palermo, and Sicily. In 1945, he was discharged from the Navy after appearing in drag at a performance and expressing homosexual urges to his superiors. His drag performance became the model for the character Klinger in the hit TV series M*A*S*H*. After the war, Bruce had his dishonorable discharge changed to "with honor."
Shortly after leaving the Navy, he signed onto the Merchant Marine for 18 months. According to his autobiography, How to Talk Dirty and Influence People, life was easier then; he got paid as a Merchant Marine while his ships transported troops from the US to Europe and back. He later studied acting in Hollywood under the GI Bill. He emerged as a national figure in the late 1950s after performing in New York nightclubs. Bruce married Honey Harlowe, a stripper, and they divorced in 1957.
Bruce Heads To Jail For "Sick" Jokes
His numerous arrests for using obscenities in public in the 1960s made him a champion for free speech advocates. Bruce was convicted of obscenity in 1964 despite (or maybe because of) testimonials from Allen Ginsburg, Bob Dylan, Norman Mailer, Dorothy Kilgallen, William Styron, and James Baldwin. He died of a drug overdose in 1966 before an appeal was settled.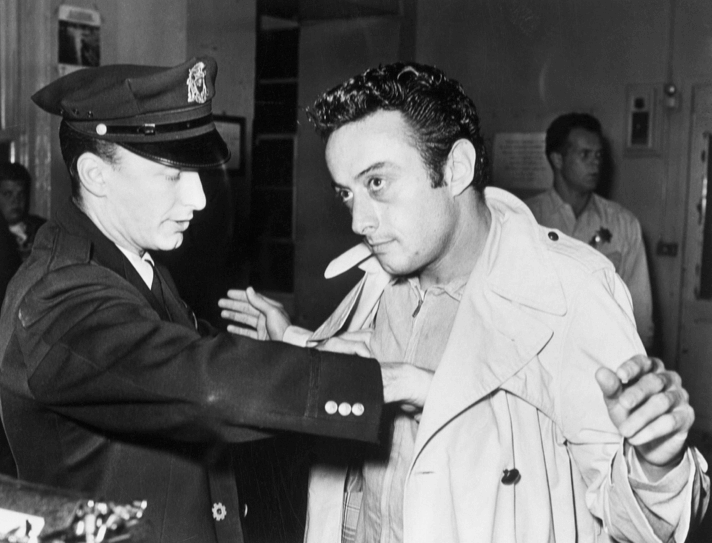 Camp Shanks
Dubbed "Last Stop, USA", Camp Shanks opened in May 1943 on 2,000 acres seized from home and farm owners in Orangetown. Soldiers stayed for just a few days before embarking to Europe. The camp housed up to 50,000 troops at a time, including some 75% of the troops who participated in the D-Day landing. African American troops lived in segregated quarters. Many of the soldiers ventured into Nyack for off-base entertainment.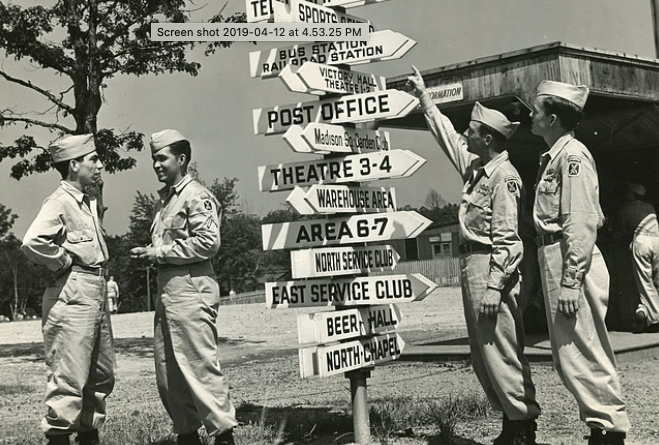 After most of the American troops departed, German and Italian prisoners of war arrived between April 1945 and May 1946. Nearly 300,000 POWs were processed through the camp. The camp closed in July 1946. Today the Camp Shanks Museum is in Orangeburg, NY.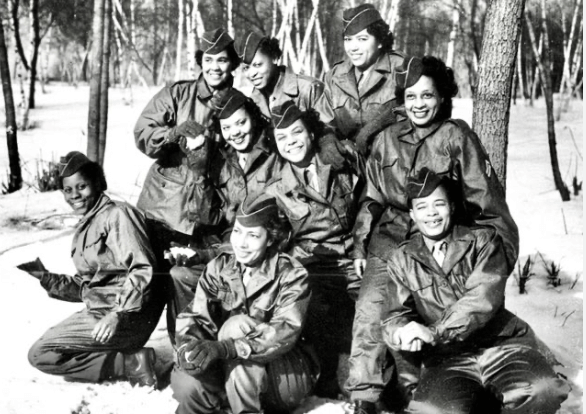 The Nyack USO
161,436 servicemen passed through the doors of the Nyack United Service Organization (USO) that opened in February 1943, the same time as the Tappan Manse Barn USO Club opened. The club was housed in the Professional Building at 37 N Broadway. At first, only the second floor of the club was used. Soon after, walls were torn down to make large rooms on both floors. The second-floor housed billiards tables, a reading space, and a women's lounge. A snack bar, kitchenette, ping pong tables, and a large dance floor filled the first floor.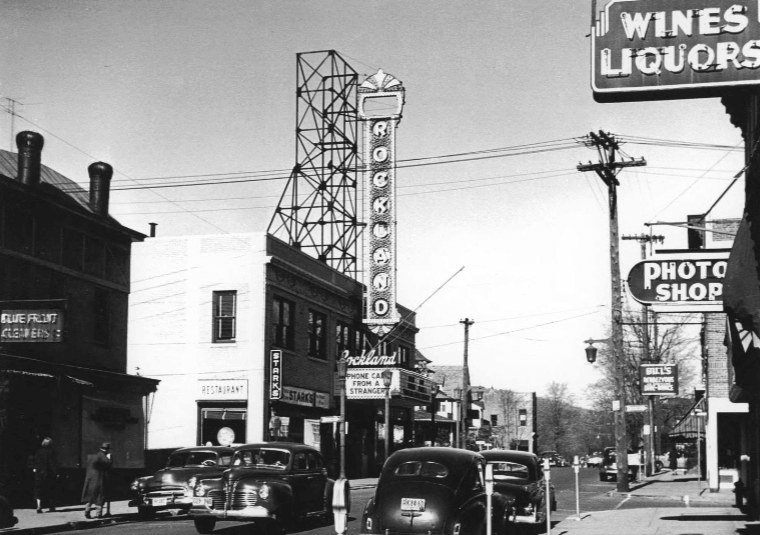 After the USO closed in late 1945, the building became the home of a dance and dinner hall called Bill's Rendezvous. In the 1980s the building housed Hickory Dickory Dock, and, today in 2023, it  is the long-time home of Runcible Spoon. 
Entertainment at the Nyack USO
A typical week consisted of dance lessons, square dancing, singing, portrait sketching, social games, and buffet suppers on Sunday. Alexander Esplin served as director for most of its time. Local women served at the USO. They invented special events on holidays, decorated the hall on special nights like barn dances, and wrote a weekly newsletter.  At barn dances, hostesses dressed as milkmaids in blue jeans and plaid shirts. The building was decorated, and a live pig and goat completed the effect.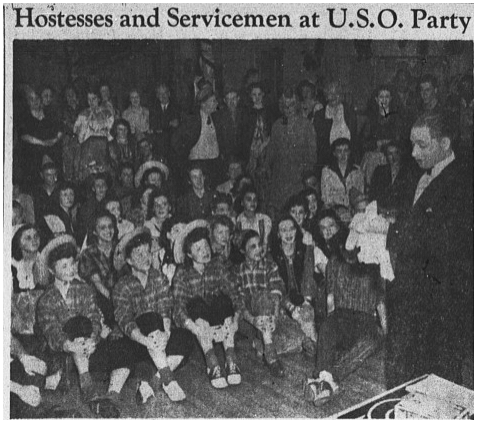 Besides junior hostesses from Nyack High School and the Girl Scouts, other groups assisted like the Chins-Up Club consisting of service wives. Once they were holding a meeting when a group of servicemen came into the club. Upon noticing the young women, they paid special attention until they learned the women were married. The soldiers departed sheepishly.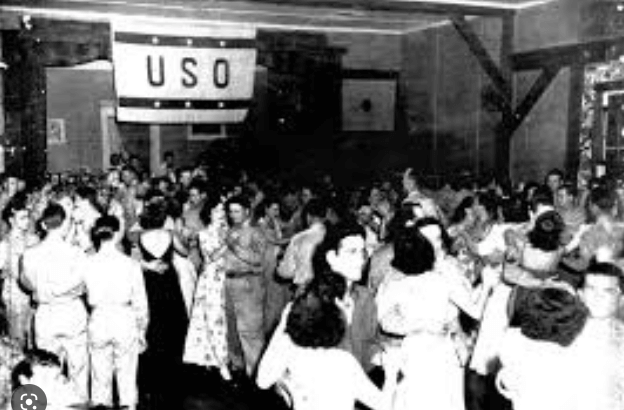 Martha Graham Dancers Volunteer as Dancing Partners
A special party was held for Japanese American soldiers in 1945. The club was jammed, music could be heard out on the street, and the club was decorated in red and white with rows of delicious cakes, pies, and steaming coffee. Members of the Martha Graham Dance Group entertained the soldiers since not enough women could be found as dancing partners at Camp Shanks or in Nyack.  During the party, according to a Journal News reporter, "a pretty girl was dancing an authentic hula. Everyone crowded around her and smiled in approval." One soldier said, "Yes, she's swell, but let's dance some more."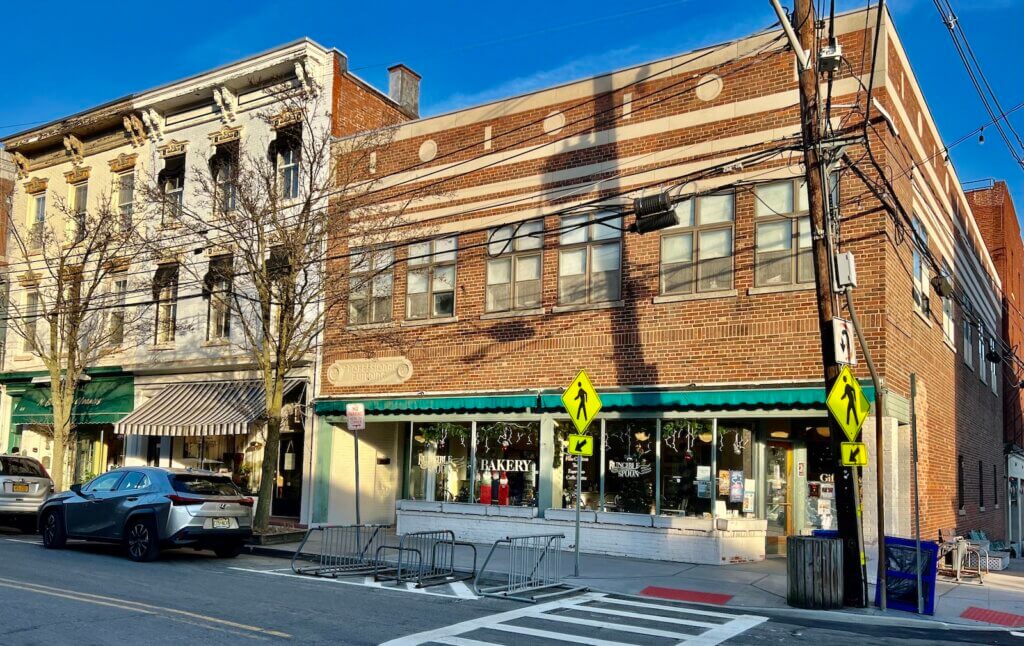 Servicemen Remember the Nyack USO fondly
Most military personnel who came to the Nyack USO were from Camp Shanks, but many marines came from Iona Island, and many sailors came from Huntington Lodge or from docked boats. Sgt. Dixey Dugan wrote a letter to the Nyack USO after shipping out to England.  "I had so many good times in Nyack that I just wanted to drop a line and thank you for the swell times," he wrote. "I guess we'll never forget Nyack. The boys talk about it nearly every day."
Another popular activity was making recordings at the club. Four young southerners who had sung in a church choir at home made 17 quartet recordings. According to director Esplin, most recordings went something like this, 
"I'm having a good time here. Don't worry about me. I'll be back and when I get home, I want dad to have the ice box full of beer and a boat ready."
Corporal James Foley of Central Nyack wrote from Italy that one day when he was driving along a highway in Sicily, he picked up a paratrooper who had been at Camp Shanks. "He told me how much he appreciated the hospitality of the people in Nyack and the home atmosphere around the USO Club. You people should really be proud, for your club is known throughout the world."
The Rockland Theater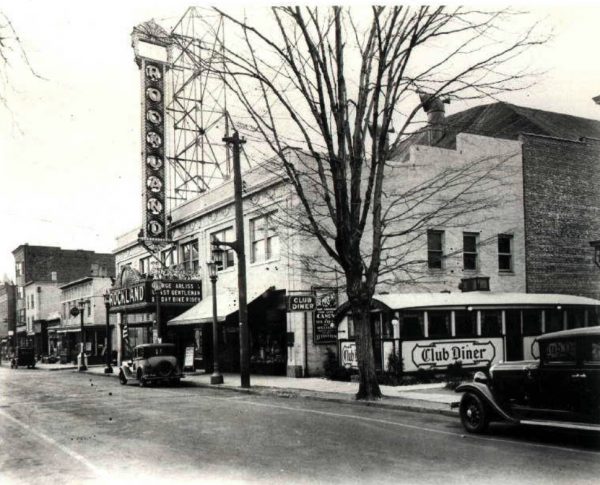 The Rockland Theater occupied the block across the street from the Nyack USO (now the site of Victoria Mews). The 1,600 seat Rockland Theater was Nyack's answer to the great art deco movie palaces that were being built throughout America in the 1920s and 1930s. The theater opened in May 1928.  Motion pictures and vaudeville acts dominated the large stage during its start and into the 1930s. A large organ and small orchestra accompanied live acts. Talkies came in soon after the theater opened. First-run films, newsreels, and cartoons filled the main floor and balcony beneath the 3,000-pound chandelier hanging from an interior dome decorated, along with the rest of the interior, in a Mediterranean style.
The theater was popular with servicemen. It is unclear if the theater was segregated at this time, it certainly was earlier. Black people had to sit in the balcony.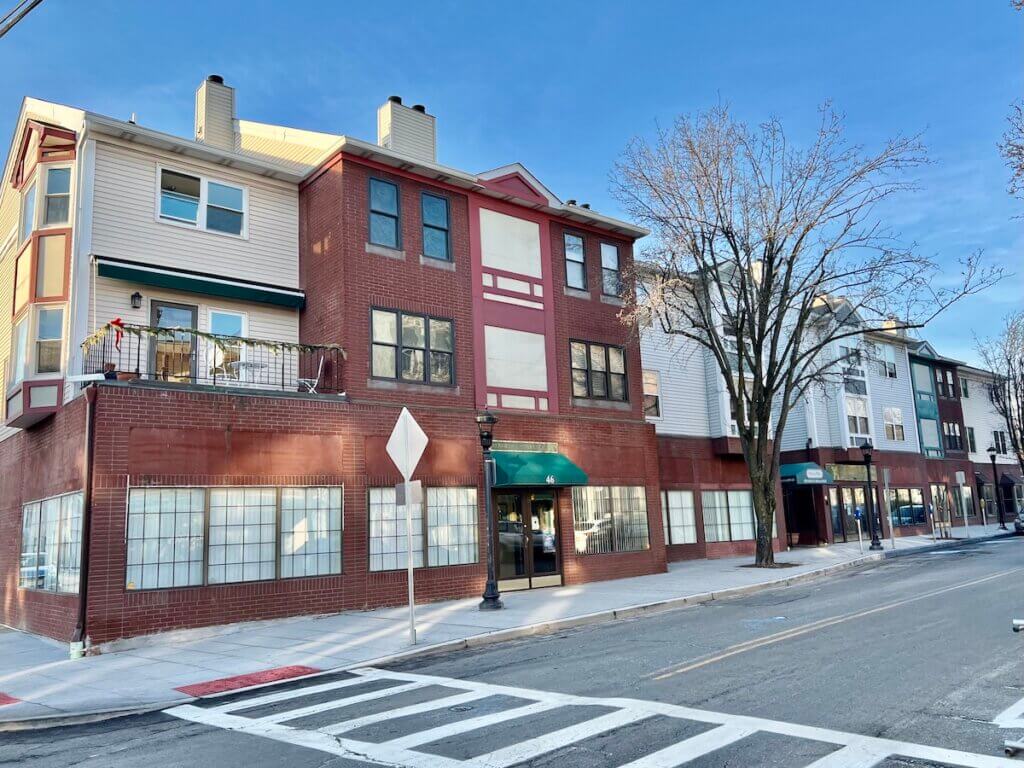 Fundraising at the Rockland Theater
Helen Hayes, Nyack resident and winner of two Academy Awards for best actress, headlined a fundraiser for the Nyack USO in July 1942 at the Rockland Theater. Theater management canceled the regular showing for the evening. Charles MacArthur, Helen Hayes's husband and himself an Academy Award winning playwright, arranged for the showing of the 1932 movie, Farewell to Arms starring Helen Hayes and Gary Cooper.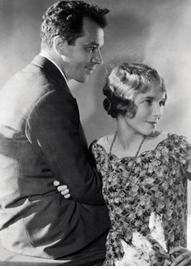 Jimmy Jemail, a Daily News columnist, and former football All-American at Brown emceed the show. Songs and music were performed by their composers. Nyack resident Henry Allaire played the theater's organ before and during the show. Helen Hayes closed the program with a speech and recited three verses of the Star-Spangled Banner.  About 1,000 people attended. $700 was collected for the USO, equivalent to a purchasing power of about $13K in 2023.
Lenny Bruce in Nyack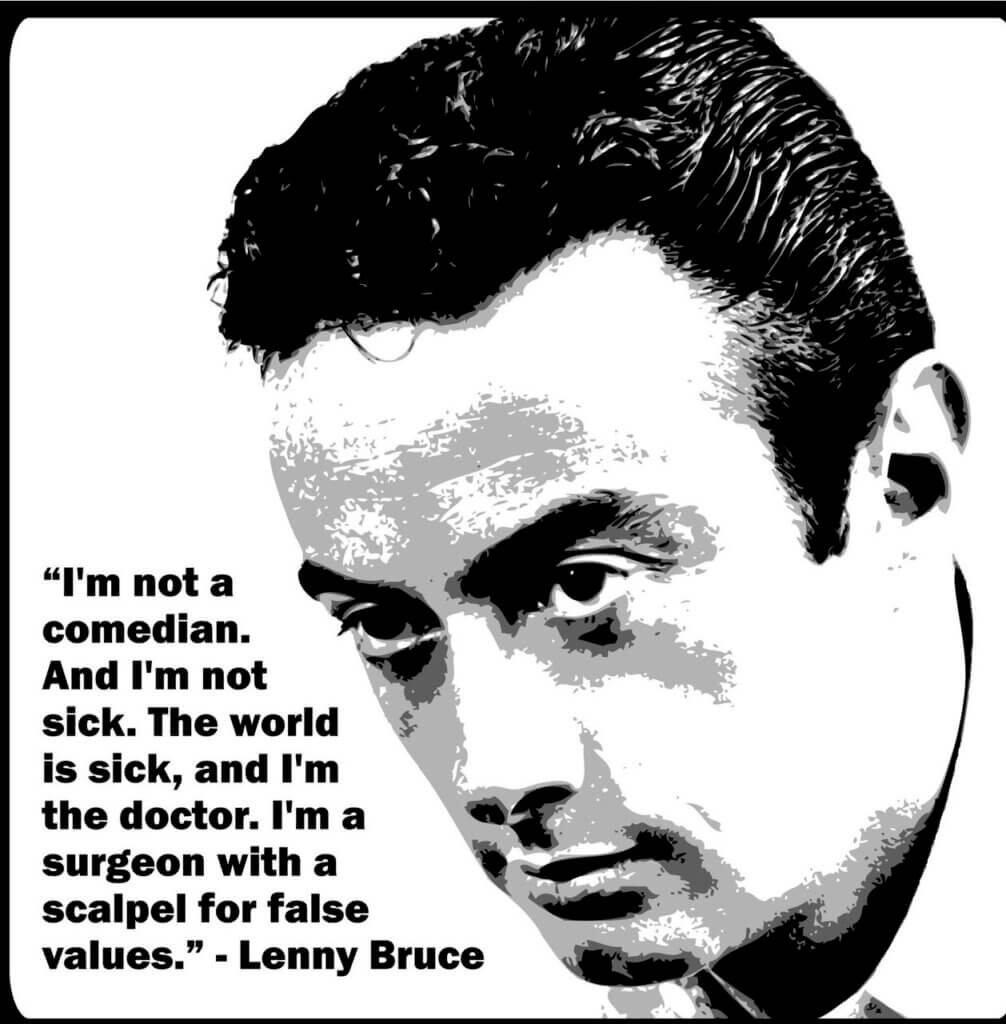 Without much fanfare, Lenny Bruce performed in Nyack during WWII. He spelled his name "Lennie" then and he had not yet changed his last name to "Bruce" then either. The memory of his appearance comes from one source, William Motto, who served as projectionist for the theater from its opening in 1928 until its closing on November 7, 1967. Motto had a detailed memory of the theater's history.
"Lennie (sic) Bruce, who went professional as a comedian after the war, used to appear on the stage at Rockland Theater when he was stationed at Camp Shanks." 
William Motto, Journal News
Bingo, it fits. An aspiring 20 + year-old amateur comedian in the Navy could easily have been stationed at Camp Shanks in between being engaged in actions in the Mediterranean. Vaudeville was still a part of the movie experience in those days and what could have been better than a comic performance by a serviceman. So just imagine, Lenny Bruce on stage at the art deco 1,600 seat Rockland Theater practicing his comic chops. He was surely irreverent back then.  Nyack got a sneak preview of the man who was to become one of America's most famous mid-century comedians. Did he get curtain calls at the Rockland Theater?
Michael Hays is a 35-year resident of the Nyacks. Hays grew up the son of a professor and nurse in Champaign, Illinois. He has recently retired from a long career in educational publishing with Prentice-Hall and McGraw-Hill. He is an avid cyclist, amateur historian and photographer, gardener, and dog walker. Hays has enjoyed more years than he cares to count with his beautiful companion, Bernie Richey. You can follow him on Instagram as UpperNyackMike.
Nyack People & Places, a weekly series that features photos and profiles of citizens and scenes near Nyack, NY, is brought to you by
Sun River Health
, and
Weld Realty
.