We all love rock concerts and stand-up comedy; going to live shows gives us a certain thrill that watching from home can't compare. And celebrities have always fascinated the general public. Their politics, personality, or extreme behavior has often landed them in trouble. Sometimes the entertainer or the police take their job way too seriously. So seriously, in fact, the musician or comedian is hauled off stage in the middle of their act and brought to jail. It happens more often than you think. Here are ten times a celebrity was arrested because of their performance.
Related: 10 Crazy Adult Film Star Arrests
10

Marty Wayne 1946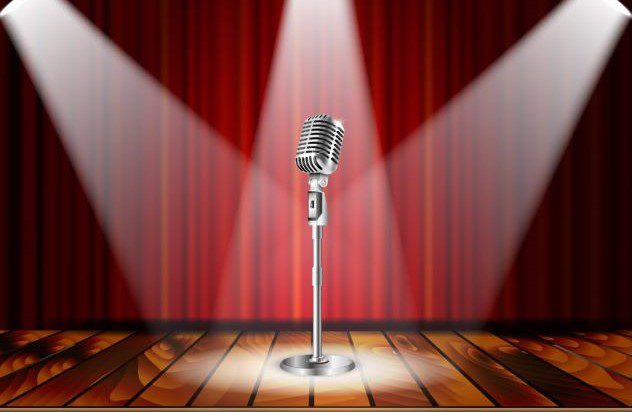 In 1946, Marty Wayne was an up-and-coming comedian with a penchant for filthy jokes and pantomime. While performing in Philadelphia, Wayne was arrested. At the time, the newspaper wouldn't quote the police; they reported that he was arrested "for his purple passages," which would most likely be considered mild by today's standards. The venue's owners were fined, and Wayne spent six months in prison!
Wayne's career never really took off after his release. However, Wayne may well have been the inspiration for other more famous entries on our list. Obscenity laws were stricter and more plentiful in Wayne's time. Most likely, he would have had a longer and more successful career had he lived in modern times, much to the chagrin of comedy fans everywhere.[1]
9

Marilyn Manson (2001)

While Manson was not stopped during the show, he was arrested immediately following a 2001 performance in Michigan. Allegedly while on stage, Manson rubbed his gentiles on a security guard's head. Manson recalled the incident at a 2013 show in Detroit. He claimed that he almost went to jail for having sex with a man's head, an embellished version of the event. Officially Manson was charged with misdemeanor assault and battery for spitting on security officer Joshua Keasler's head and felony sexual misconduct charges for wrapping his legs around Keasler and "grinding" on him.

According to prosecutor David Gorcyca, "These acts are sexual and physical assaults on an unsuspecting individual whose job was to protect the performers" Eventually, the felony charge was dropped, but the misdemeanor stuck. Manson seemed unaffected by the incident in every possible way.[2]
8

Richard Pryor 1974

1974 was a big year for Richard Pryor, Blazing Saddles premiered, which he co-wrote, and he was arrested following a live performance in Richmond, Virginia. By the mid-1970s, laws concerning obscenities had been overturned throughout most of the country, leading some to believe there was racial bias in the arrest. According to comedy historian Kliph Nesteroff, "All the words that are in Blazing Saddles are the same words that he got arrested for saying onstage."

Whether or not that was the case, Pryor was arrested for breaking a "foul language" ordinance. The local newspaper quoted the police saying, "He was repeatedly told to clean up his act." The comedian used unapproved language in his jokes, one of which he directed toward the Richmond Police Department. He was released on a $500 bond and was later forced to attend a hearing on the matter later. Pryor never "cleaned up his act." In 2006, he was the first Mark Twain Prize for American Humor honoree presented at the Kennedy Center, a distinctive honor for one arrested for his sense of humor.[3]
7

Janis Joplin 1969

As the first queen of rock 'n' roll, it's not necessarily surprising that Janis Joplin spent a few nights in jail. The circumstances of this particular arrest, however, are classic Janis. On November 16, 1969, B.B. King opened for her at Curtis Hixon Hall in Tampa, Florida. The crowd of roughly 3,500 people was losing their minds by the time she got on stage. They ran into the aisles toward the stage and stood on top of each other for a better view. She was doing a slow, bluesy version of "Summertime" as police tried to escort people back to their seats.

Things got heated between the crowd and the cops, and Joplin noticed. She allegedly yelled, "Don't f**k with those people" through the microphone. Her comment was enough to provoke Sgt. Ed Williams to get a warrant for Joplin's arrest because of her "vulgar and indecent language." Joplin continued to antagonize the Tampa Police force throughout her set, and by midnight, she was behind bars. She was released on bail within a few hours and continued to play shows with the same vigor until she died at 27.[4]
6

George Carlin 1972

George Carlin had an outstanding comedic career that spanned over fifty years. Carlin was renowned for his vulgar yet well throughout jokes and had multiple run-ins with the law in his early days.

He appeared in dozens of movies and TV shows and countless live performances. Most memorable was his "Seven Words You Can't Say" bit. While performing that act at the 1972 Milwaukee Summerfest, Carlin was arrested for "profanity," despite obscenity laws being overturned throughout the country by the early 1970s. Officially charged with disorderly conduct, the charges were eventually dropped, and the judge ruled in favor of Carlin's first amendment freedom of speech rights. Carlin remarked later that he had the last laugh on the topic. The arrest gave the comedian publicity that he just couldn't buy and significantly impacted his career.[5]
5

Bobby Brown 1989

Following a 1987 Beastie Boys concert, the people of Columbus, Ohio, passed an anti-lewdness ordinance. Early in 1989, R & B star Bobby Brown broke that ordinance during a live performance, to the surprise of no one. "My Prerogative" had just been released, and there was no way Brown wasn't going to live up to the song's name. He brought a woman from the crowd on stage with him during a rendition of the popular song and "simulated sexual intercourse" with her, according to Columbus Police.

Brown came off the stage for a break around 8:30 that night when the auditorium's head of security arrested him. He was taken to the county jail and booked. However, he was able to pay a $652 fine and was released. Brown was only off stage for about 90 minutes before returning and finishing the show.[6]
4

Axl Rose 1987

Guns N' Roses frontman Axl Rose has had quite a few run-ins with the law over his storied career. In 1991, he allegedly coerced the crowd into a riot during a show in St. Louis. Rose was arrested after the fact and made to stand trial for his role in the Riverport Amphitheater Riot. Years before that, he had been arrested during another show.

In 1987, GNR was on tour for their debut album, Appetite for Destruction. The band arrived in Atlanta in late November; their performance was scheduled for the 22nd. Allegedly, Rose punched a Black police officer in the face and was arrested. The police stated that he could be released if he apologized to the officer, but Rose responded to this offer in his own way. He refused to apologize and said, "F**k you!" to the cops. He was arrested due to physical assault during the band's performance.[7]
3

Jim Morrison 1967

In December 1967, while performing in New Haven, Connecticut, Doors frontman Jim Morrison became the first rock star ever arrested mid-performance. The incident became famous after being written about in countless newspapers and magazines and even appearing in Oliver Stone's 1991 biopic The Doors. As the story goes, Morrison was "making out" with some girl backstage before the show. The two were interrupted by a police officer who ordered the couple to leave. Morrison, of course, refused and was consequently maced by the officer. Shortly after that, the officer was informed that his victim was, in fact, the ultra-famous lead singer, Jim Morrison.

Later, during a "Back Door Man" performance, Morrison improvised altered lyrics to recount the events to the audience. He then sang derogatory slurs at the police, and that was literally the show-stopper. The police came on stage, stopped the performance, and arrested Morrison. He was charged with inciting a riot, indecency, and public obscenity. This would not be his first arrest, though. In 1969, he was arrested for lewd and lascivious behavior, indecent exposure, profanity, and drunkenness a few days after a concert in Miami, Florida.[8]
2

Lenny Bruce 1961-1964

Lenny Bruce is arguably the most revered name in stand-up comedy; his wit, charm, and jokes were ahead of his time. He believed in himself and his ability to make people laugh, whether or not authorities thought he was funny or not. He is responsible for bringing first amendment rights to his craft, paving the way for others like George Carlin and Richard Pryor. Bruce was arrested many times for obscene and vulgar language throughout his career.

The first time was in 1961 in San Fransico. On this occasion, the police waited until after his set. However, on December 4, 1962, Bruce was performing his act at the Gates of Horn Club in Chicago when he made multiple jokes containing what was considered obscene. Phrases like "schmuck" or "c***sucker" came out of his mouth one too many times, and police stopped the show and hauled him off to jail.

Over five years, Bruce appeared in court in several states for his act. He was convicted on the Chicago charges and sentenced to four months in jail. Comedy clubs nationwide blacklisted him after his conviction. He spent years going through the appeal process, but he died of a drug overdose before it could be completed. He won his appeal posthumously and was pardoned. In 2003, Governor George Pataki of New York pardoned Bruce, calling the state's first posthumous pardon "a declaration of New York's commitment to upholding the First Amendment.".[9]
1

Dave Chappelle 2022

Dave Chappelle was never arrested during one of his shows. Quite the opposite. For our last entry, we're turning the tables. On May 3, 2022, Dave was in the middle of his Netflix is a Joke festival set when a member of the audience at the Hollywood Bowl in Los Ang attacked him. Later identified as Isaiah Lee, the attacker jumped onto the stage and shoved Chappelle (not a small man) to the ground. The incident occurred as Chappelle attempted to exit the stage for a mid-set break. The police subdued Lee quickly, and he suffered "minor injuries." He was brought to the hospital to treat his injuries and to be evaluated for mental illness. Lee was later charged with felony assault with a deadly weapon.

Police say Lee was found with a replica handgun that produces a knife blade when fired. Chappelle is one of the top stand-up comedians of the last decade and has become a household name. His brand of comedy has offended a lot of people over the years. There are many reasons someone might take offense to his act, and this wasn't the only time he was assaulted on stage. According to TMZ, he was once the victim of a racial assault when an audience member threw a banana peel at him during a show in New Mexico. Despite all this, Chappelle has stayed at the top of his industry while giving back to his community.[10]