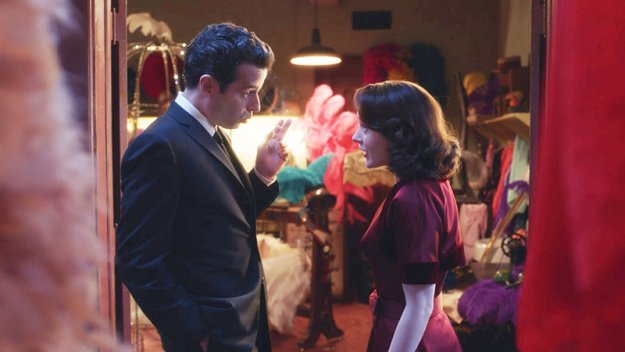 Season 4 of The Marvelous Mrs. Maisel on Prime ties up some loose ends, principally the relationship between Miriam "Midge" Maisel (Rachel Brosnahan) and Lenny Bruce (Luke Kirby). 
Midge meets so-called "sick comic" Lenny in the pilot episode in 2017. After her stand-up debut during which she bares her breasts, Midge gets busted for indecency. Who's in the backseat of the police car but none other than Bruce, also arrested that night for being "obscene" on stage. Midge and Lenny bond and eventually become friends.
Midge is the female Lenny. On the show, she's even more daring, riffing on the latest developments in her personal life. Midge holds nothing back; she's an open book for women at the end of the 1950s. Midge doesn't know her place, otherwise she wouldn't be trying to break into the man's world of stand-up.
The '50s was full of male "Borscht Belt" insult comics like Don Rickles and Buddy Hackett. Their rare female counterparts – Phyllis Diller, Totie Fields, Moms Mabley (she's portrayed in a Maisel episode), Carol Burnett and Joan Rivers – were among the first to break through that boy's club ceiling.
Lenny Bruce in "The Marvelous Mrs. Maisel": "I'm not the stand-up Messiah." 
Midge's humor is distinctively brash and Jewish. She lives with her parents – Abe (Tony Shalhoub) and Rose (Marin Hinkle) – which provides plenty of material. She was married until her husband Joel (Michael Zegen) walked out after having an affair with his secretary. They have two kids, which holds them together. But Midge's unabashed stage material pushes him away everytime they think about reconciling.
Set in New York in 1960, with John Kennedy about to run for president, Maisel has a Mad Men feel. It's nostalgiac for pre-tech America and colorful with olive-colored refrigeratiors and Deco flourishes. Midge is a modern Millie, like Carrie Bradshaw in Sex in the City. Both Carrie and Midge are quite the fashion icons (though Carrie can't touch Midge's brilliant hat collection); Midge even has a day job at B. Altman's.
The New York depicted by Maisel is like a dream landscape for Big Apple Baby Boomers. Midge practically lives in the Stage Deli, where she regularly takes meetings with her cantankerous manager Susie (Alex Borstein). New York is split into sections. There's the chichi Upper West Side, where good families live, and Greenwich Village, where all the cool people hang out. It's the folk/Beatnik era and the writers have fun with that, serving up droll poets, acoustic trios and outrageous comics like Midge. An adriot improviser, she never tells the same story or joke twice.
The Lenny storyline is secondary, but by the end of Season 4 it comes full circle, with Lenny offering Midge a heavy dose of needed advice.
The Lenny Bruce + Weed Maisel Tracker that follows contains a major spoiler for those who have not completed watching Season 4, so beware. Maisel will return with one more season before ending a run that has garnered several Golden Globes and Primetime Emmys for the show, Brosnahan and Borstein.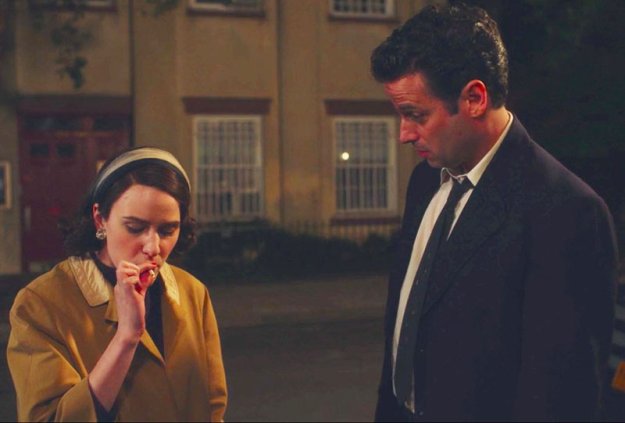 Season 1
Episode 1: Pilot
• Lenny does stand-up, jokes about sniffing glue.
• Two guys pass a joint on a fire escape.
• Midge, who gets busted for obscenity and baring her breasts during her first-ever standup gig at The Gaslight, shares the police car with Lenny, also busted that night.
• After Susie bails her out, they go to The Kettle of Fish. Midge: "Everybody looks happy. Are they high? Must be nice."
• Midge bails out Lenny. As he walks down the stairs in the police station, Lenny tells the cops: "I had three joints in my wallet. I expect to find them all there. If you have some coke back there, we can have a hell of a party."
• Midge asks Lenny about the life of a comedian: "Do you love it?" Lenny puts up his hands and shrugs. "Yeah, he loves it," Midge says to herself.
Episode 2: Ya Shivu v Bolshom Dome Na Kohlme
• At the same police station, Lenny bums cash from Midge for the cab. His wife Honey is in the backseat. He advises Midge to find a lawyer. Lenny says the cabbie refuses to "to get paid in weed."
• Midge is busted again for obscenity.
Episode 3: Because You Left
• Lenny bails Midge out and invites her to his show at the Village Vanguard.
• Outside the club in an alley, the jazz cats are smoking a joint. It's passed to Lenny.
Midge: "Is that a marijuana joint?" The jazz cat offers it to Midge.
Lenny: "Hold it in." She inhales.
Lenny: "No cough?"
Midge: "Was I supposed to cough?"
Lenny: "Not if you can help it."
Midge: "What do we do now? Do we do an activity?"
Lenny: "Take another hit." This time she coughs.
Back inside the club, Midge tells the crowd, "This was supposed to be a fun evening filled with music and smoking pot with a bunch of strange men in an alley," then intros the band.
• After the jazz set, the cats and Lenny head uptown to Harlem. Lenny to Midge: "Was I supposed to make a pass at you?" Midge smiles as the cab pulls away.
Lenny to NYPD: "I had three joints in my wallet. I expect to find them all there."
Season 2
Episode 1: Simone
• Lenny does stand-up.
• Lenny to Midge: "You're Norman Mailer in a cocktail dress."
Episode 2: Mid-way to Mid-towm
• Susie finds a joint in Midge's apartment and smokes it on her fire escape. Susie to Midge's friend Imogene (Bailey De Young): " I'm having a little trouble focusing. I'm really high."
Episode 5: Midnight at the Concord
• Lenny does stand-up.
• Midge comes with a date, a doctor named Ben (Zachery Levi). Lenny: "You bagged yourself a doctor. Your parents must be kvelling."
Episode 10: All Alone
• After a bad gig, Midge runs into Lenny at the Dublin House. Lenny is bummed (there's a warrant out for his arrest in Chicago). Lenny: "I'm Sisyphus without the fabulous hair and the loin cloth." Midge: "It's going to be OK." Lenny: "Is it?"
• Lenny invites Midge to his upcoming gig on The Steve Allen Show during which Lenny sings "All Alone" accompanied by Allen on piano.
Midge to Susie: "Make me Lenny Bruce. Make me a headliner."
Season 3
Episode 1: Strike Up the Band
• Lenny is arrested during a stand-up gig in New York. Lenny: "I just tell jokes, man."
Episode 5: It's Comedy or Cabbage
• Midge runs into Lenny in Miami. She walks with him to his motel run, but refuses Lenny's overture to sleep together
Episode 8: A Jewish Girl Walks Into the Apollo…
• Susie asks Lenny to introduce Midge at The Gaslight. Lenny tells the crowd about Midge: "She's been going through some of the same shit I've been going through."
Lenny: "I want people to fucking laugh – think and laugh, sure – but laugh. I'm a comic." 
Season 4
Episode 3: Everything Is Bellmore
• Lenny visits Midge at The Wolford, the burlesque theater where she's the emcee.
• Midge tells Susie: "Make me Lenny Bruce. Make me a headliner."
• Abe starts working at the Village Voice as a theater critic. On his first day in the office, he meets the staff, including photographer Gilbert who's sitting on a window sill smoking a joint. "What you're smoking is not exactly what I'm smoking," Gilbert declares as Abe pulls on a cigarette.
Episode 6: Maisel vs. Lennon: The Cut Contest
• Midge finds Lenny facedown drunk outside a club. She brings him home. Lenny leaves the next morning without as much as thanking her.
Episode 8: How Do You Get to Carnegie Hall?
• Police raid the Wolford while Lenny is there to see Midge. In a snowstorm, they go to Lenny's hotel room provided by Carnegie Hall where he's playing the next night. Lenny to Midge: "There are many things about you that men would find wildly attractive." He seduces her and they finally sleep together.
• In the morning, Midge sees Lenny's works (for heroin) in the bathroom. Lenny: "You don't need to worry about that. All is well." He tries to help Midge by offering her the opening slot for several upcoming Tony Bennett shows. Midge decides against it because she only wants to headline.
• After the Carnegie Hall show, Lenny takes Midge out onto the empty stage.
Lenny: "What a fucking pedestal you put me on. Getting arrested is not a badge of honor. Getting arrested means I can't work where I want to work. People are afraid of booking me. This is exactly the opposite of what I want for myself. Do you know how much I hate knowing that people come to see me hoping I'll get popped, hoping they'll have a great story to tell friends over cheese and crackers. I want people to fucking laugh – think and laugh, sure – but laugh. I'm a comic. I'm an entertainer, baggy pants and banana peels. I'm not the stand-up Messiah. This is what I want, this is what I have worked for. Don't you want this? Don't you want to be here? Don't you know a thousand mental patients that braved a fucking snowstorm to see you should be the goal?
Midge: "I'm just supposed to be fired from one job after the other?"
Lenny: "Yes, if that's what it takes. Listen to me: I've made a lot of mistakes and I'm going to keep making a lot of mistakes, but one thing is crystal clear in my mind about what the end game is…"
Midge: "Oh, really…"
Lenny: "No, do not make this about me. This is about you. You wanted me to remember you as funny, right, that night? You didn't want me to think of you as just a girl, you wanted me to think of you as a comic. Well, don't you forget I'm a comic too. Don't you dare look at me as someone to be pitied or helped or fixed. I do not want or need that, especially from you."
Midge: "I do not want to fix you."
Lenny: "Ninety percent of this game is how they see you. They see you hanging with Tony Bennett, they think you deserve to be there. They see you hauled off to jail to say fuck at a strip club, they think you deserve that also. Wise up!"
Midge: "I'm not hiding. I have a plan."
Lenny: "Don't plan, work! Just work and keep working. There is a moment in this business when windows open. If you miss it, it closes. If you blow this, Midge, you will break my fucking heart."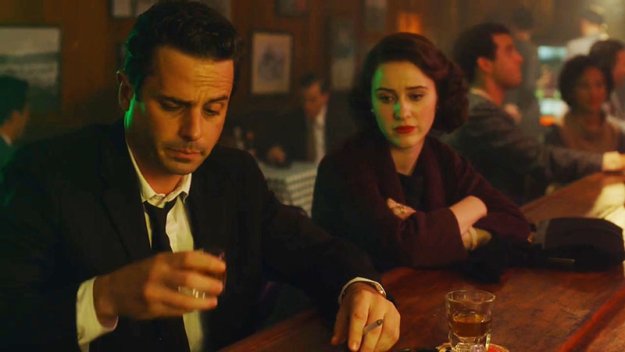 Rachel Brosnahan on Lenny Bruce
The Hollywood Reporter asked Brosnahan the following question: 
"The comedian Lenny Bruce tragically died of a drug overdose in 1966. Knowing that trajectory, how do you think Midge will cope with Lenny's eventual fate after that explosive season finale between them?"
Brosnahan: "I think it would be absolutely gutting for Midge. Lenny's been her mentor and her hero. In so many ways, she's modeled herself in her career after him. Even in intention when sometimes she's wrong, as Lenny points out at the end, I just think she'd be absolutely gutted. And a big part of me hopes we never get there."