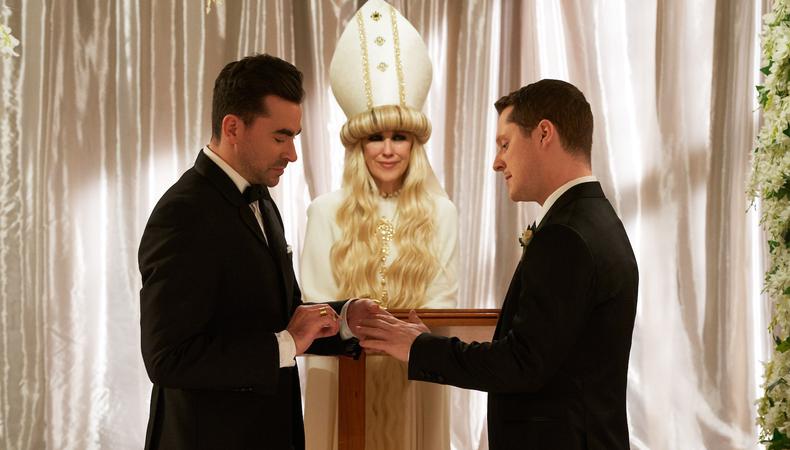 Photo Source: Courtesy of Pop TV
Great television combines top-notch writing, acting, directing, and so much more. In this era of peak TV, we here at Backstage have pinpointed those precise moments when everything on our small screens was firing on all cylinders. The unforgettable scenes on the scripted series below, all of which are up for honors at the 72nd Primetime Emmy Awards, make them worthy of Television Academy attention. We could watch them over and over again.
"Dead to Me": Jen tells Judy
I recently sat down and watched 14 consecutive episodes of "Dead to Me." Thank you—I am very impressive. I simply couldn't stop, because the Netflix series, I assume, was genetically designed for maximum bingeability. Naturally, the half-hours began to blur like very tearful tie-dye—people cry a lot on "Dead to Me"—but a sequence on Season 2's penultimate episode announced itself like a bull entering a china shop, and it won't be forgotten. (Spoiler warning!)
When Jen (Christina Applegate, in the performance of her career) tells Judy (a devastating Linda Cardellini) that she murdered Judy's husband, Steve (James Marsden), not because he'd been threatening her with violence, but because he'd hurt her with words, what does our emotionally battered Jen do? At her lowest moment, she brings down the person she loves most with her, hitting Judy with her deepest self-hatred. "You love anyone who just gives you a morsel of fucking attention," she hisses. When the spat then pours out onto the street and into Judy's car, Jen watches in horror as her friend strikes herself repeatedly in the chest, then climbs into the passenger seat so the two can hold each other and wail. Their only comfort is their shared pain. Although Emmy-nominated in comedy categories, most stand-out "Dead to Me" moments like this one are about as funny as a biopsy. Humor on this series, as in life, happens between relentless heartbreaks. Thank goodness, as Jen and Judy would attest, for wine. —Casey Mink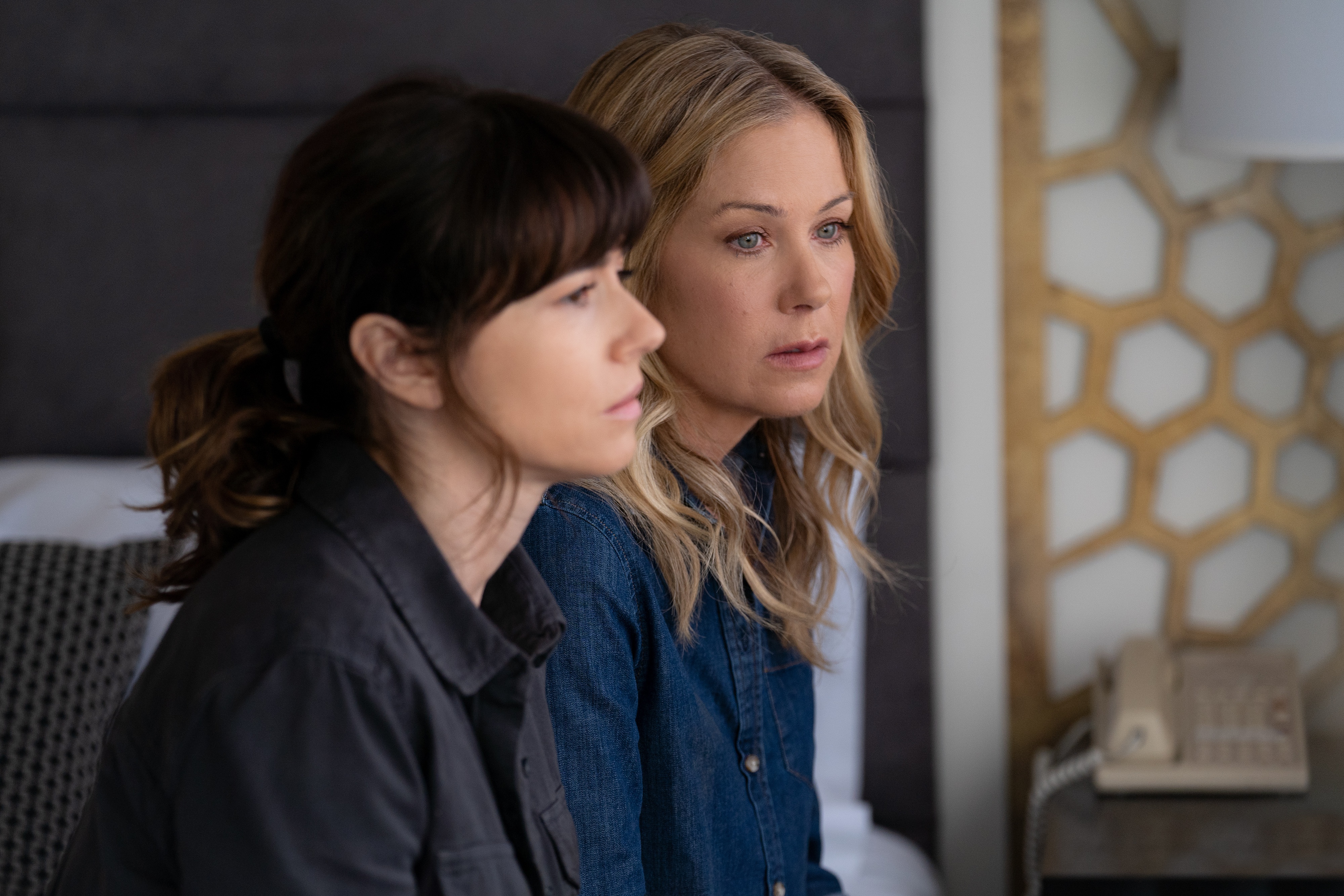 "Euphoria": Rue's crash course in photography
"Euphoria" might be the first show ever to tell an audience that no, the eyes are not the window to a guy's soul; in fact, the best way to peer at the truth sitting at a man's core is to see, in all its glory (or shame, depending on the outcome), "your dick and how you fucking photograph it."
This fantasy lecture sequence, wherein Rue (as portrayed by Emmy nominee Zendaya) breaks down unsolicited photos of male genitalia into the fool-proof categories of Acceptable, Horrifying, and Terrifying, hits both the micro of Rue's jealousy over her BFF Jules (Hunter Schafer) falling for someone else—who happens to have an Evian bottle–sized penis, by the way—and the macro of dating in today's internet age.
Jules blows bubblegum while clicking through a carousel slide projector of cell phone photos as Rue enters full discourse mode, pacing the classroom with a pointer. Zendaya's delivery elevates cultural faux pas to sociological study that goes beyond the "member" in question to analyze lighting, background, and angles in order to understand the particulars about the photographer's psychological state; that's not just an uncapped deodorant lurking in the background—that's a fundamental hygiene problem: Horrifying. No, he's not just a "Game of Thrones" fan—that sword is a sign of full Charles Manson–level psychopathy: Terrifying. By the end, Rue has scrutinized this particular brand of sexting with an attitude of a blasé teen on TikTok at the dinner table: quick on the scroll but scrupulous enough to notice the details.
Creator-director Sam Levinson's choices in pacing, cinematography, music, as well as the unimpeachable, direct-to-camera performance from Zendaya here, roots us in one of the series' many perspective switches designed to give us the maximum amount of insight into these complex characters. This moment gives us a brilliant example of such insights, with the added benefit of feeling we've just completed an academic course on dick pics. —Briana Rodriguez
"The Mandalorian": Peli Motto
When we think of an awardworthy snapshot of scripted TV, what comes to mind is usually brilliant acting, writing, and directing that takes your breath away. But looking back on the 2019–20 Emmy season's plethora of options, I remembered a moment that indeed elicited a full-body gasp from me, based on the ineffable magic of that oft-overlooked aspect of great on-camera storytelling: casting.
When Amy Sedaris appeared on Jon Favreau's space drama "The Mandalorian," I felt like the stars, perhaps in a galaxy far, far away, had aligned. I recognized her as the grungy, bewigged spaceship mechanic on Tatooine and felt instantly that Disney+ was worth every penny; in fact, I'd probably pay more. It was a distinct TV-watching delight, a never-knew-I-needed-this moment. Who would think to cast such a character actor—the creator-star of TV's most oddball variety show, "At Home with Amy Sedaris"—in the "Star Wars" universe? Sarah Finn and her team of casting directors, apparently. Casting can be a tricky art form; someone too well-known for a particular role can pull audiences out of the story, distracted by their previously formed impressions. But Finn (the CD behind Oscar winners like "Crash" and box office juggernauts like "The Avengers") knows how to harness that phenomenon, selecting an actor we may have preconceptions about and using those to the story's advantage. 
Seeing Sedaris as Peli Motto, the harried mechanic swindling Pedro Pascal's Mandalorian and falling in love with the adorable "Baby Yoda," I felt it didn't matter what she decided to do with her scene partners or lines; whatever zany choices she made would be correct. Within moments of the realization that the last person I'd expect to appear in a space Western had indeed appeared, I felt certain I was in good TV-watching hands thanks to Favreau, Finn, and, of course, Sedaris. —Jack Smart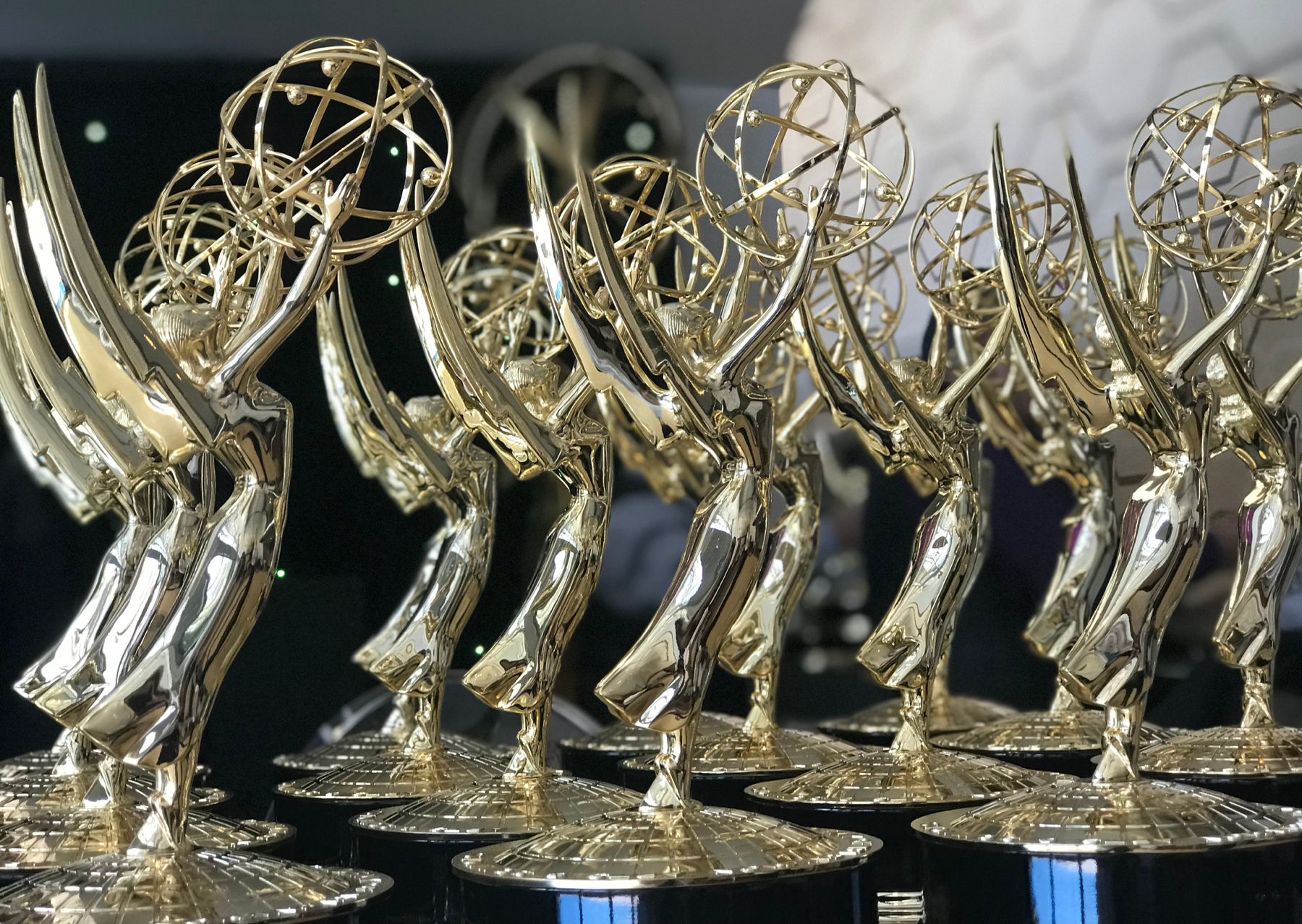 Here's What Our Experts Really Think About the 2020 Emmy Nominations
"The Marvelous Mrs. Maisel": Lenny Bruce's hotel room
Always a favorite for "Maisel" viewers, Luke Kirby shines in his brief Season 3 appearances. Halfway through Episode 5, Lenny Bruce returns as an anchor both for us and Rachel Brosnahan's Midge. With seasons of buildup to their friendship, we get the ultimate will-they-won't-they confrontation as the characters finally acknowledge their romantic chemistry. After sharing a slow dance infused with sexual tension, the two walk back to Lenny's hotel room together.
But when they're standing in the doorway, Midge decides to walk away. Lenny suggests that something romantic may happen between them, "maybe someday, before I'm dead," morbidly reminding the audience that he only has a few years left to live. That's the last we see of Kirby this season, so only time will tell if Midge and Lenny's relationship will evolve past the close bond that "Maisel" fans relish. —Isabelle Sarraf
"Saturday Night Live": Maya Rudolph IS Kamala Harris
Rudolph is celebrating three Emmy Award nominations this awards season—one for her voiceover work on "Big Mouth," and two in the same guest comedy actress category for "The Good Place" and "Saturday Night Live." It's the latter nomination that really solidifies her as a comedic icon. Rudolph played Sen. Kamala Harris across multiple Saturdays this season, but her appearance on the Eddie Murphy-hosted episode rightfully nabbed her the nom: Her Lizzo-inspired Harris, letting all of America know that they could've had a "bad bitch," hair blowing in the wind, martini glass in hand, emerges onto the debate stage after having dropped out of the election and still manages to prevail. Let us hope this expertly interpreted moment makes this the year that Rudolph finally takes that Emmy gold home. —Paul Art Smith
"Schitt's Creek": David and Patrick's wedding
OK, so, if you weren't crying during David and Patrick's wedding in this year's series finale, you can't really call yourself a fan of "Schitt's Creek." Sorry, I don't make the rules! Catherine O'Hara may be leaving this beloved Canadian comedy's six seasons with a legacy of wacky wigs and absolutely snatched designer wardrobes as Moira Rose; but her onscreen son, played by series co-creator Dan Levy, and his hubby, played by Noah Reid, get points for making us misty as each year wraps. From karaoke nights to larger-than-life Tina Turner recreations to wedding bells, they just love each other so much! And seeing a so-heartfelt-it's-cheesy queer relationship onscreen, notably with no homophobic roadblocks or "It Gets Better"–inspired backstory, feels like a breath of fresh air.
Back to their wedding: This series finale moment does more than bring two of our favorite characters together in holy matrimony; it nods to all the things that make the titular town special. Eccentric residents like Chris Elliott's Roland line the pews; Annie Murphy's Alexis steals some of her brother's thunder by wearing a wedding dress to a ceremony that isn't hers; the Jazzagals sing David down the aisle; and Moira finds a way to plug her latest film, "The Crows Have Eyes 3," while officiating through genuine hiccups of tears. We're really going to miss this bunch. —Benjamin Lindsay
"Unbelievable": Marie gets the call
There are countless moments that alternately tear your heart out and leave you breathless on "Unbelievable." It's an unapologetically brutal examination of sexual assault and the pursuit of justice, as well as a stunning account of the ways law enforcement fails survivors. From a painful-to-watch first episode—in which Kaitlyn Dever's Marie reports her assault only to recant and be charged for filing a false report—to the miniseries' end—in which a twist of fate gets her justice—viewers are privy to her lonely, vulnerable, trapped feelings.
By the time Marie's story converges with the two faraway detectives investigating a string of rapes, Marie has lost all hope—and everything else: her job, her friends, her boyfriend, the support of her foster families. With nothing left to lose, she leaves the place that has taken everything from her. On her way to start over, she gets the call: The detectives, poignantly portrayed by Merritt Wever and Toni Collette, have discovered evidence that ties their perp to Marie's attack. They've arrested him, and, more importantly, they believe her. In that moment, with no physical scene partner, you see eight episodes' worth of grief, so expertly depicted by Dever, lift. You somehow feel light, too. Of all the excruciating moments Dever manages to play in the most grounded way, this one soars. —Elyse Roth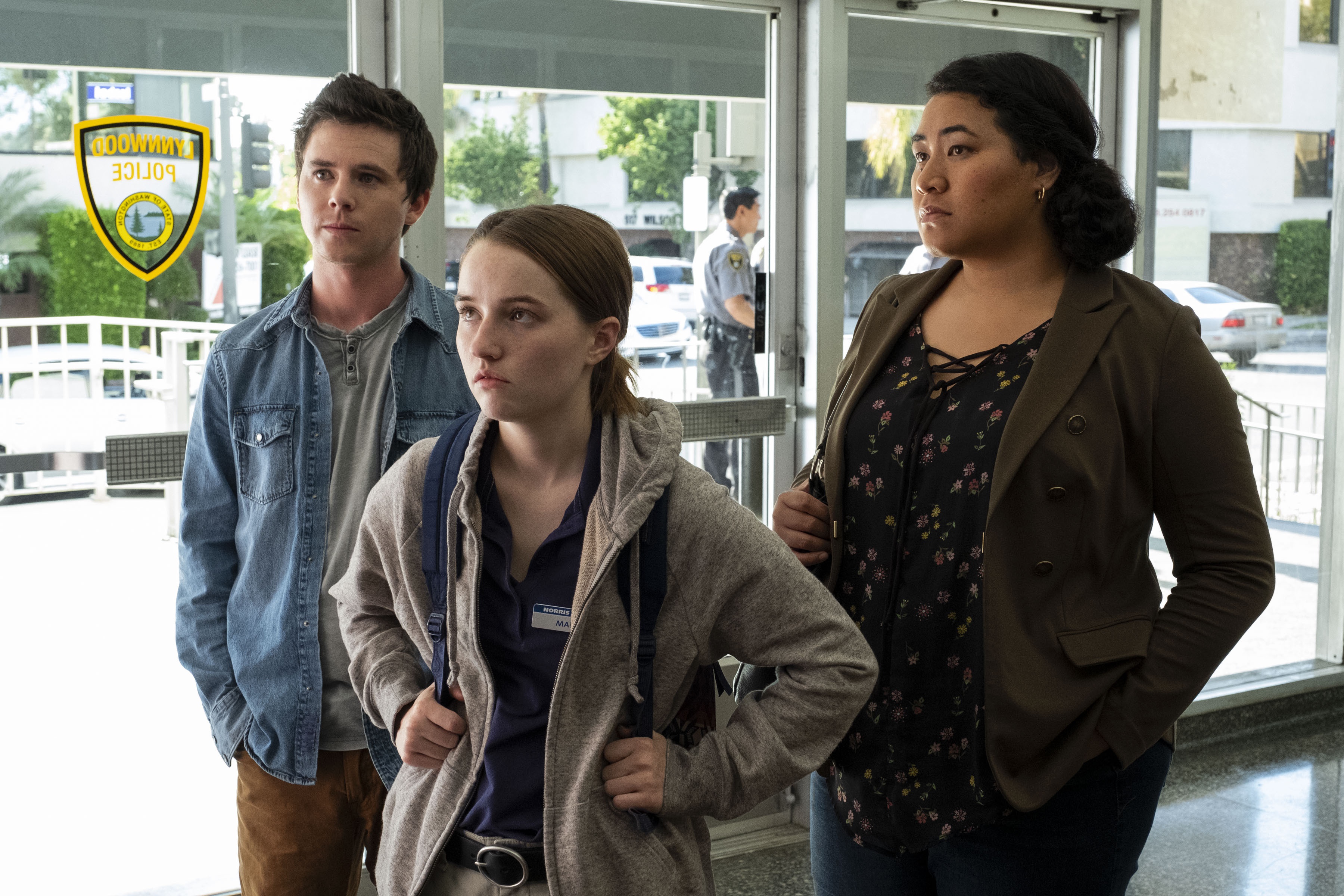 "What We Do in the Shadows": Guillermo kills vampires
The amiable familiar Guillermo de la Cruz (Harvey Guillén), in his quest to eventually become a vampire himself, is willing to do a lot for Nandor the Relentless (Kayvan Novak). But things become a bit more complicated when he discovers that he's a descendant of Van Helsing with a natural talent for slaying vampires. This FX comedy's second season opens with Guillermo's skills on full display; he's forced to secretly dispatch numerous assassins that have been sent by the vampire council to kill his master and the other vampires in their house, Laszlo and Nadja (Matt Berry and Natasia Demetriou).
Guillermo does this like he does everything else for the vampires: to the best of his ability and with no acknowledgment, although now that's because if they discover that he's killed vampires…well, they're supposed to kill him. So he stays up eating chocolate-covered espresso beans and saving his masters, setting the tone for a season in which Guillermo must face his heritage and kill more vampires—not all of whom are assassins. This series more than deserved its many nominations this year, but since the vampires haven't done it (yet), let's take a moment to truly appreciate Guillén's reliable, sweater-wearing Guillermo and his epic slaying skills. —Lisa Granshaw
This story originally appeared in the August 27 issue of Backstage Magazine. Subscribe here.
Looking for remote work? Backstage has got you covered! Click here for auditions you can do from home!