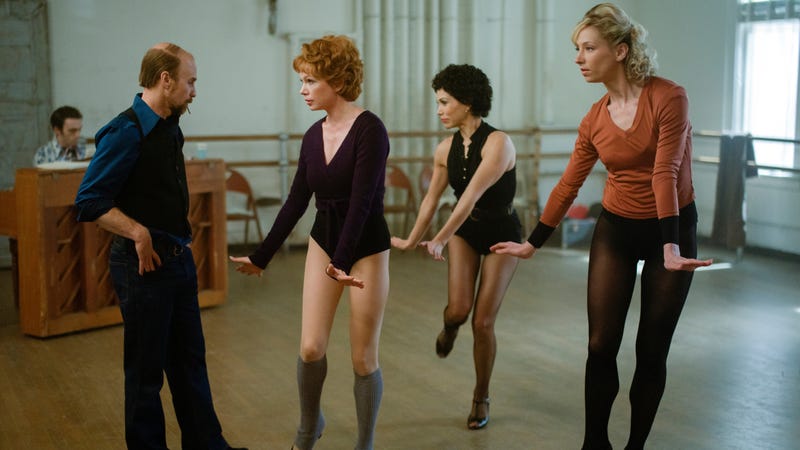 TV Reviews
All of our TV reviews in one convenient place.
Fosse/Verdon has skirted around the problems of its conflicted male lead character and why he does such reprehensible things, especially to the women in his life. Similar to Gwen's early days, it's a dark, dark tale—at times, hard to watch. Fosse/Verdon attempts to make Bob's story more palatable by framing it in the same format of his 1974 movie Lenny, as Dustin Hoffman portrayed controversial comedian Lenny Bruce in a series of black-and-white stand-up monologues (and other scenes).
F/V borrows the Lenny setup to tell Bob's story as well. As Bob himself puts it, "drug addict, adulterer, shit father, shit husband; boy oh boy if only I could relate to this guy." The build to that first black-and-white scene is impressive, a frenetic bit of editing that shows just how much tremendous pressure Bob has added to his life by his careless, carefree decision last episode: to do Lenny and Chicago simultaneously. It would be tough for someone who hadn't just gotten out of a mental hospital, and now Bob's physical health is at risk as well. When the doctor tells Bob he's having a heart attack, he's in rage midst of an argument with Gwen, and barely even notices.
I've thought this before, but it really struck me this episode how sad Bob's life was. As we saw in the episode where he won the triple crown of awards, even with all his career insecurity, all that public praise didn't make him happy, just more self-destructive. The images of beautiful young Bob, just so joyful to dance in front of people, even at a strip club, are heartbreaking because we know he'll never be that happy again. He brought darkness in to every production because his own soul was tarnished by the sexual abuse he suffered at the hands of those strippers when he didn't even know what sex was. He hurt a lot of people, but he did so as part of the cycle of abuse, because he was hurt so badly himself at 13.
Bob's life is a tragedy, but it's also a triumph: Even with all his demons, that darkness enabled him to make art like no one else: The frantic forced giddiness of Cabaret; the sick, twisted merriment of Chicago. It reminds me of my all-time favorite music biography, Trouble Boys by Bob Mehr, about my favorite band, The Replacements, in which I found out they were more fucked-up than I ever could have imagined. It made me incredibly sad, but also made me appreciate their music just that much more, what they were able to accomplish despite everything they went through.
After all, Bob Fosse took this experience of having a heart attack while working on two projects and made another project out of it: 1980's All That Jazz, his last movie musical (and a Cannes winner). The horrible events from his childhood gave him a seemingly unstoppable drive, and, as he predicted, did wind up killing him at the age of 60. He did not seem like a happy person, but the kind of person for whom stopping that frantic pace would be impossible: How could he have taken that year off and actually survived? I have to stress how much Sam Rockwell gives an amazing performance here: the sardonic world-weariness of the nightclub scenes, the coughing up a lung, the post-surgery fogginess, Fosse's signature combination of fatalistic hopefulness.
Even when she's not the center of episode, though, it's impossible to take your eyes off Michelle Williams' Gwen, even for a moment. Her steely niceness enables her to win over everyone from theater producers to doctors with equal ease. Who could resist? The theme of Fosse/Verdon, after all, is how much these two depend on each other, and that's never been clearer than here, as Gwen protects Bob with a tiger-like ferocity, masquerading her own daughter to get her into the hospital to lift Bob's sagging spirits. She won't hear a word about his demise because she can't fathom it.
Her primary position leaves Ann a bit put out, but after all: Bob doesn't ask Ann to be there post-surgery. He only wants Gwen, in a sweet hospital room moment as the two reminisce about Bob's awful "Musical Chairs" number, which they replaced with "Who's Got The Pain?" Together, they're nearly undefeatable, which is why Bob is so anxious to have her by his side in this troubled time, and Gwen is so determined to keep the Chicago team together. It's certainly confusing for Nicole, but as Gwen tries to explain, "what your father and I have, he doesn't have with anybody else." And when Bob's as down in this point of his life, naturally, Gwen is not about to leave his side.
Stray observations
Rando Fosse/Verdon factoid of the week: A commenter mentioned last week that Bustle tried to figure out which real-life person Gwen's boyfriend Ron was based on. It's apparently Jerry Lanning, who was big on the soap circuit.
This week's featured member of the Fosse/Verdon inner circle: Tony Award winner Chita Rivera (the dancer who warns that they're all going to get their asses kicked) played Nickie in Sweet Charity for Fosse and Verdon, then joined them again to play Velma in Chicago's first run. She was the original Anita in West Side Story, first Rosie in Broadway's Bye Bye Birdie, and also appeared in Pippin and Kiss Of The Spider Woman.
"You look like a machine." "I'm not even gonna tell you what you look like."
Lenny Bruce is having a big year: For a lighter take on Bruce's act, check out his portrayal by Luke Kirby in Amazon's The Marvelous Mrs. Maisel, where Bruce functions as a stand-up memoir to the main character.
Next week: Chicago gets a new finale in "Nowadays."