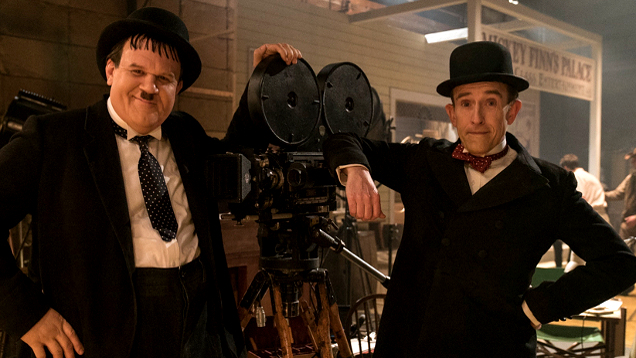 Stan & Ollie explores the late-career lives of the legendary comedy duo Laurel and Hardy. Critic Luke Buckmaster reflects on the memorable approach taken by this film, and four others also about famous laugh-makers.
The obvious way to frame a film about legendary comedians Laurel and Hardy would be to represent the two men – one famously short and skinny, the other tall and plump, and both undisputed virtuosos of slapstick – as irrepressibly talented individuals whose fates were written in the stars. Director Jon S. Baird and screenwriter Jeff Pope take a less conventional approach in Stan & Ollie, basing the vast majority of the story in the duo's later years, when the flame of their celebrity has lost its heat and the filmmaking business has moved on.
This gives Baird's elegantly constructed film an air of melancholy as Stan Laurel (Steve Coogan) and Ollie Hardy (John C. Reily, in a freakin' good fat suit that even came equipped with its own air conditioning system) take their show on the road, touring half-empty fleapit theatres. Audiences might not be coming out in droves but they guffaw and slap their knees and cheer and cry for more; the duo are still a hit. To paraphrase Norma Desmond from Sunset Boulevard: they're still big, it's the pictures that got small.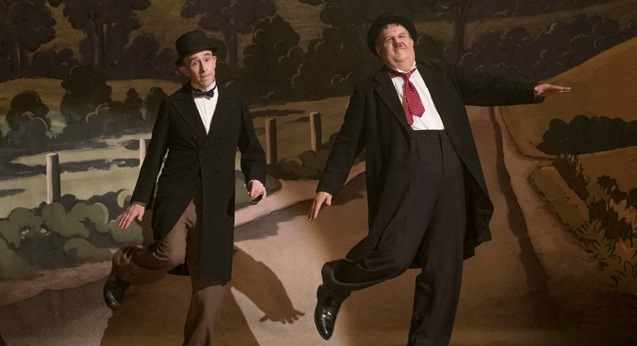 Stan & Ollie is a film about craftsmen who continue to ply their trade not just because they love their work and need the money, but because they simply don't know what else to do with their time – and nothing else gives their lives meaning. This, again, adds a melancholic element. It is a thoroughly interesting perspective with which to view legendary comedians whose stories in other hands might have been puffed up and reverential.
Here are four other films that take memorable approaches to exploring the lives of famous laugh-makers.
Sign up for Flicks updates
The full title of director Chris Smith's unusual documentary is Jim & Andy: The Great Beyond – Featuring a Very Special, Contractually Obligated Mention of Tony Clifton. Where to begin? The "Jim" is "Jim Carrey", the "Andy" is trailblazing experimental comic "Andy Kaufman", and Tony Clifton is a lounge lizard character who was invented and played by Kaufman, then played by Jim Carrey while he was playing Andy Kaufman. Got it?
A core strand of the film uses behind the scenes footage from the making of the Jim Carrey-led Kaufman biopic Man on the Moon. During production Carrey kept in character while instigating various (sometimes hilarious) off-set shenanigans. Smith uses this footage, and a wide-ranging interview with Carrey, to reflect not only on the career of both comics, but the very nature of performance – including whether, when you get down to it, there is really a difference between performance and life itself.
In addition to being one of cinema's greatest artists, Charlie Chaplin also wrote one of the great screen celebrity memoirs, simply titled My Autobiography. This terrific account of his rags-to-riches life, born in the poverty-stricken slums of South London to a mother with mental illness, contains thought-provoking ruminations on his art and craft, including (among so many more examples) the following definition of comedy: "It is the subtle discrepancy we discern in what appears to be normal behaviour."
The screenplay of director Richard Attenborough's 1992 biopic drew on this book, and created a framing device in which a fictitious editor (played by Anthony Hopkins) questions Chaplin (Robert Downey Jr) about various aspects of his recollections, giving the film a strange pseudo meta vibe. Its transitions and technical flourishes can be gimmicky (such as shots morphing from black and white to colour) and the drama is on the nose, peppered by loud moments in which the subtext is (sometimes literally) screamed rather than implied. Scenes recreating silent era filmmaking are a treat, however, and Chaplin remains a compelling protagonist.
For their film about Larry, Curly and Moe – aka the superstar slapstick trio The Three Stooges – co-directors Bobby and Peter Farrelly recruited lookalike actors ((Sean Hayes, Will Sasso and Chris Diamantopoulos) and reinstated old school comedy touches, including sight gags incorporating sound effects that go "boing!", "donk!" and "blam!" Instead of aspiring to examine who these men really were, the filmmakers pursued a rather different objective: imagining who they would be if their shtick played out in real life.
Without directly saying it, the Farrellys present the Three Stooges as grown men with severe intellectual disorders, blissfully ignorant of their impairments. The story isn't much chop, latching onto the familiar setup in which a sudden injection of cash is required to save a charity organisation – in this case a nun-run orphanage. But boy that premise is weirdly interesting. There are scenes when the dunderhead trio literally bark at each other like dogs. Not a lot of grace in it, but plenty of laughs.
The controversial and polemical counterculture comedian Lenny Bruce was an influential champion of free speech, chased by police and famously convicted of obscenity in the 1960s for saying "cocksucker" during a live performance. Most of the darker elements of Bruce's life come into play quite late in director Bob Fosse's biopic, led by an agonisingly good performance from Dustin Hoffman as Bruce: he is fanatic and sweaty and righteous and panicked and choc full of rage.
The film's most distinct characteristic is its helter-skelter structure, which at times is maddeningly non-linear but eventually comes together satisfyingly. The director chops the protagonist's life into a series of violently edited vignettes, reducing the impact of individual moments but giving the broader experience an intriguing mosaic-like quality. At the end you leave Lenny feeling like you've not just watched it, but that it's somehow become stuck to you.