Every few years, I think about joining the Democratic Socialists of America. And every few years, I end up leaving one of their events shaking my head in disappointment. More often than not, I end up in meetings that have nothing to do with wages, working conditions, and other issues that socialists are supposed to care about. One of the last times I gave DSA a chance, I ended up in a discussion about "Hamilton." The socialists debated whether Lin-Manuel Miranda's musical was "reactionary" or "liberatory." It felt like an Introduction to Cultural Studies course rather than an activist meeting. My impression was compounded by the fact that I was surrounded by college students. Personally, I would rather spend my time knocking on doors and talking to voters than discussing whether a theatrical production is progressive or not. I certainly have no interest in trying to cancel one that's not.
But some members of the DSA have different priorities. Last week, members of the Madison, Wisconsin chapter demanded that a comedy club cancel Louis C.K.'s upcoming performances. Back in 2017, C.K. admitted to sexual misconduct with five women. Four years later, these socialists believe he has no right to step back on stage. As they put it, "In addition to joking about his own abusive behavior, Louis C.K. has long gotten a pass for tasteless jokes about the Holocaust, disabilities, and transgender people. As socialist feminists, we stand strongly opposed to platforming abusers, and we believe Louis C.K. must be held accountable for his abuse and oppressive rhetoric."
But the uproar over Louis C.K. was just the latest example of DSA members trying to cancel public events. Last year, the New York City chapter invited Adolph Reed Jr. to speak. Reed is an African American socialist who has been an activist for decades, who argues that socialists should focus less on racial disparities because this emphasis undermines multiracial organizing. It was a step too far for the DSA, somehow, and an uproar ensued, leading to the cancelation of the event. Cornel West, another African American socialist and fellow Ivy League professor, lambasted the decision. "If you give up discussion, your movement moves toward narrowness," he blasted the DSA in the New York Times.
Sadly, today, narrowness is a feature of the DSA, not a bug. Video footage of the DSA's 2019 National Convention shows a group of people beset by the terror of "sensory overload" exhorting each other to refrain from using "gendered language." In another scene, a person in a communist red bandana lectures his "comrades" about the triggering potential of an "aggressive scent."
"These kinds of moral stances are fine for a church congregation," John B. Judist, a socialist active in the 1960s, reflected after the event in The Washington Post, "but not for a political organization that wants to win a majority of voters. The reality is that 80 percent or more of Americans who wandered into such a gathering would think they were on another planet."
From my experience, these are not the concerns of the working-class Americans who are supposed to be the focal point of socialist organizing. And those working-class Americans have real concerns that socialists should be attending to.
As someone who has spent most of my life in landscaping, construction, dish rooms, retail, and other low-pay jobs, I've learned that a lot of Americans don't like low pay, dangerous working conditions, the egregious cost of rent, and other problems that socialists care about. A lot of the people I grew up with and sweated beside have real danger in their lives. And in all the years I've worked alongside immigrants, poor whites and other folks, I've never encountered someone who describes standup comedy as "dangerous." The opposite: According to a recent Harvard CAPS-Harris Poll, 64 percent of Americans believe "cancel culture" is a threat to their freedom.
When the socialist organizer of the March on Washington, Bayard Rustin, reflected on the Left's foolishness in his 1970 Harper's article, he was keen to observe that there is a self-defeating and bizarre tendency among radical progressives, where "dramatic confrontations are staged which serve as outlets for radical energy but which in no way further the achievement of radical goals."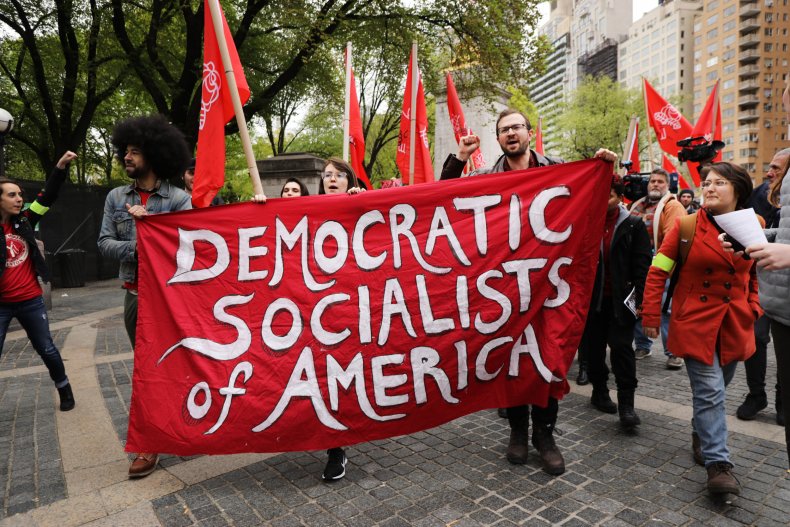 One could hardly imagine Rustin's reaction if his meetings with Dr. Martin Luther King Jr. were dramatically interrupted by anxious socialists brought to their knees by his use of the word "guys." It's even harder to imagine Rustin, King Jr., and other leaders using movement resources to prevent George Carlin, Lenny Bruce, and other popular comedians from stepping on stage.
There were a number of reasons for the Right's ascendence at the end of the 1960s, but the radical Left's inability to connect with ordinary Americans is a central part of that story. And I'm afraid that today's iteration of socialist organization is proving Karl Marx right yet again, that history repeats itself, "the first time as tragedy, the second time as farce."
Adam Szetela is a Ph.D. student in the English department at Cornell University
The views in this article are the writer's own.