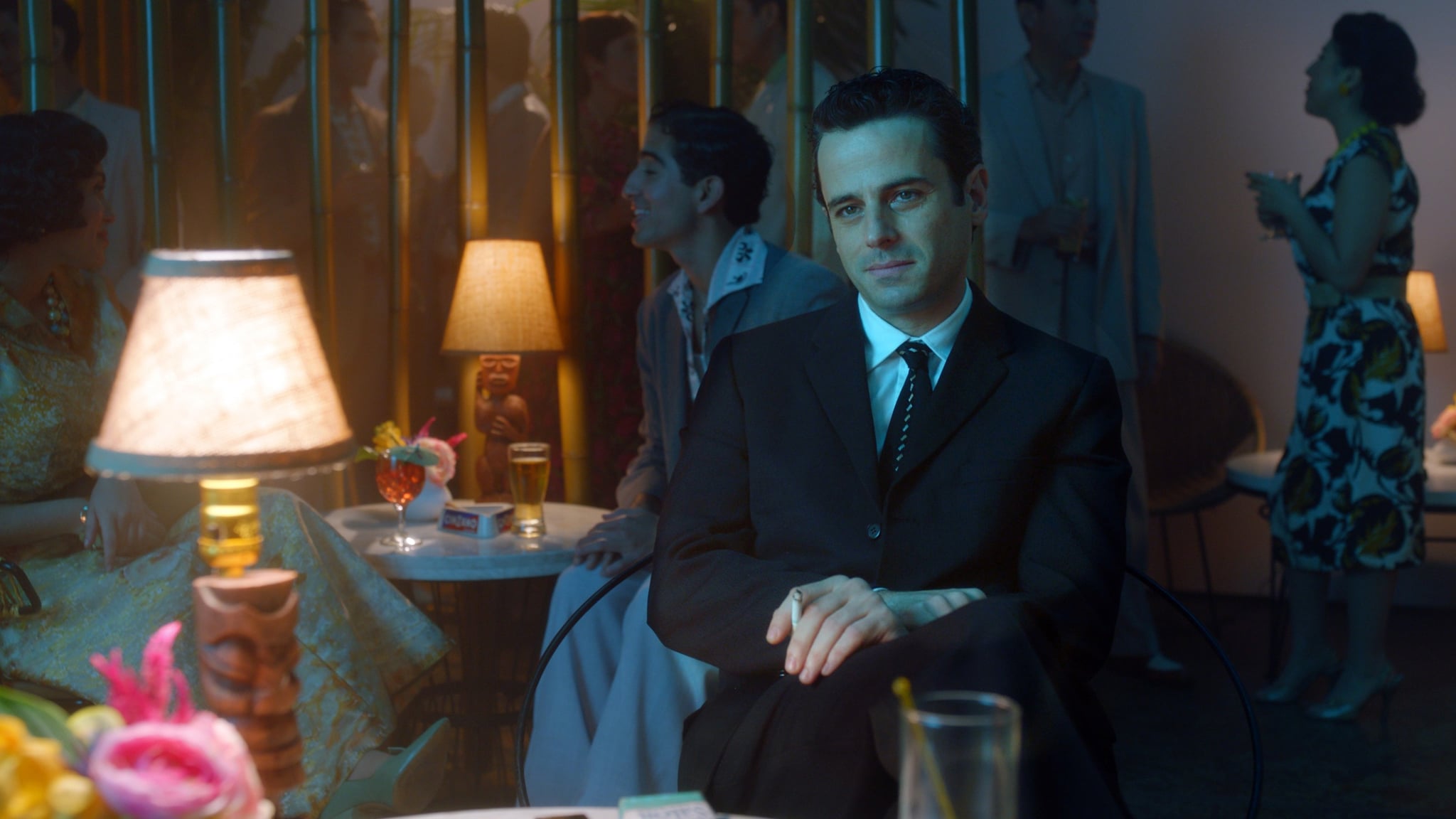 Midge's love life has gone through some serious ups and downs over three seasons of The Marvelous Mrs. Maisel, but in the third season, another potential love interest enters the ring — and it's a character we've known since the pilot episode. Midge's friend and confidant Lenny Bruce (played by newly minted Emmy winner Luke Kirby) has been her platonic sparring partner up till now, but the fifth episode of this season suggests there's a different kind of spark between the two comics. Will it ever actually happen? Probably not.
First, a quick recap as to how we got here. The third season's fifth episode sees Midge stop in Miami during the Shy Baldwin tour, where she runs into Lenny, who's temporarily living there. As always, they share some witty, semiflirty banter, and he impulsively brings her on the air when he's filming a late-night TV show to let her get more exposure, too, but it's what happens next that has everyone abuzz. The duo head out to a sultry nightclub, where they share drinks; some loaded, lingering gazes; and, eventually, an intimate (and, unusually for them, quiet) dance. Midge walks back to his hotel room with him, and although it seems like they might finally act on their electric chemistry, they ultimately don't take things any further. Instead, Midge heads home, but not before Lenny half-jokingly asks her for a date "someday, before [he's] dead" and she agrees.
Lenny and Midge might, at first, seem like a natural fit for each other. They've supported each other through the lonely emotional turmoil of comedy life, they have off-the-charts chemistry, and they're the only ones who can really keep up with each other's particular brand of wit and humor. But for those of us hoping that the show will eventually get them together for real, disappointment is in store. Star Rachel Brosnahan told The Hollywood Reporter how she and series creator Amy Sherman-Palladino are in agreement that Lenny and Midge shouldn't cross the line from friends to lovers.
"I begged Amy to never, ever cross that line, and [Sherman-Palladino] agreed. I think that their friendship is so important to both of them, but especially to Midge, and it's an intimate friendship, unlike a lot of the ones I've seen between men and women on television. They like each other because they admire each other, they admire each other's talent and they admire each other's drive. And that is allowed to be all that it is, you know? And I love it, and I don't want to risk it for anything, but I appreciate that they walk right up to the line. Amy and I were in complete agreement about that. For me it was about wanting to let their friendship be their friendship, as dynamic and wonderful and weird as it is. I love it exactly as it is and I don't need more from it, and I think Midge feels the same way . . . It would probably be fun, but I don't think either of them are interested in a forever thing."
Compounding matters is, of course, the fact that Lenny isn't a fictional character — he's a fictionalized version of the real Lenny Bruce, who has a reputation as one of the greatest comedians of all time but also one of the most troubled. The real Lenny wound up getting deeper and deeper into legal and addiction issues, and he died in 1966, at age 40, of an accidental overdose. That's still about six years off in the Maisel timeline, so the show may never actually address Lenny's tragic ending, but it also seems pretty likely that he and Midge will never get that date either. But hey — we'll always have Miami.